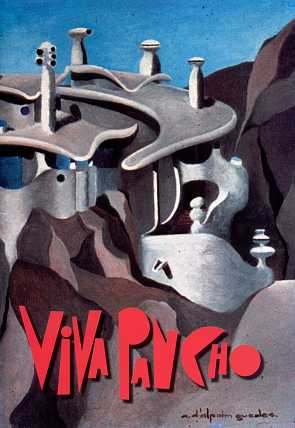 P G Raman, Ivan Kadey, Ronald lewcock, Revel Fox, Ian and Lynn Bader, Lars Lerup, Wilhelm Hahn, Julian Cooke, Mira Fassler Kamstra, Luis Bernardo Honwana, Herbert Prins, Peter Rich, Joao de Pina-Cabral, Julian Beinart, Jose Forjaz, Luis Ferreira da Silva, Cedric Green, Malangatana Ngwenya Valente, Lewis Levin, Tim Ostler, Udo Kultermann, Jo Noero, Fredo Guedes, Pedro Guedes, 'Ora Joubert, Marilyn Martin, Karl-Heinz Schmitz, Heather Dodd, Manfred Schiendhelm, Karen Axelrad.
VIVA PANCHO ! FREE DOWNLOAD OF PDF
In December 2003 Pancho Guedes was awarded an Honorary Doctorate by the University of the Witwatersrand, and for the occasion a book was produced of tributes to him by architects, ex-students, family, friends, admirers, colleagues, teachers - 30 in all. It was published by Total CAD Academy, and edited by Lonka Guedes and Pedro Guedes. It was illustrated with photographs of his work, many of his drawings, and pictures of some of the contributors, who are listed opposite.


Click below to download the PDF version of the Viva Pancho book (2.2 Mb) which can be viewed and printed using Adobe Acrobat Reader. If you do not have the free Reader on your computer it can be downloaded by clicking on the link below.